Home > Company > Cergem Sri Lanka > Overview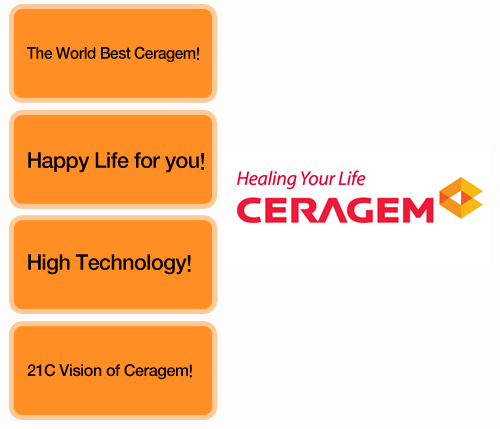 CERAGEM is the largest provider of high quality thermal massager in the world. CERAGEM has been striving to ensure a happier living for everyone, our approach to this has been to apply high technology to living life medicine. In 1998 , CERAGEM has incoperated and ceragem has invented the CGM - P 390 the new and improved model which has become the representative of the personal massager. The new production plant in Cheon-An City will become the foundation for CERAGEM to begin a new era, where personal massagers become a necessity in every household.

CERAGEM will maintain its leading position in the personal massager market through continuous research and development in the pursuit of happier living.

CERAGEM is a young, healthy and committed company Centered around some 3000 branches throughout the world, the Company has made its product competitive by successfully implementing the unique marketing strategy of offering "a free trial before purchase".

CERAGEM is growing into a healthy company with numerous awards, top consumer product nominations, an export record of $70 million in 2008 and several ISO nominations for excellence.

CERAGEM around the World!

CERAGEM products are now found in Medicare-advanced countries such as the USA, Canada, China, Australia, New Zealand, Germany, Spain, Kuwait, Yemen, Switzerland, UAE and Saudi Arabia.

The Company's exports in 2008 were $70 million.

CERAGEM is growing into the global company that wark for about people's joyful life.

| | |
| --- | --- |
| Company | CERAGEM Lanka (Pvt) Ltd. |
| Address | No . 134/1 3F , Sameera Saranga Building , High level Road, Maharagama, Colombo. Sri Lanka |
| Tel / Fax | Tel : 94 112 849 472, Fax : 94 11 2851638 |
| Homepage | http://lk.ceragem.com |