Home > Company > Promotion Center > News
Ceragem won the 'Industrial Service Medal, Prime Minister's Citation' at the 55th Trade Day
2019-01-07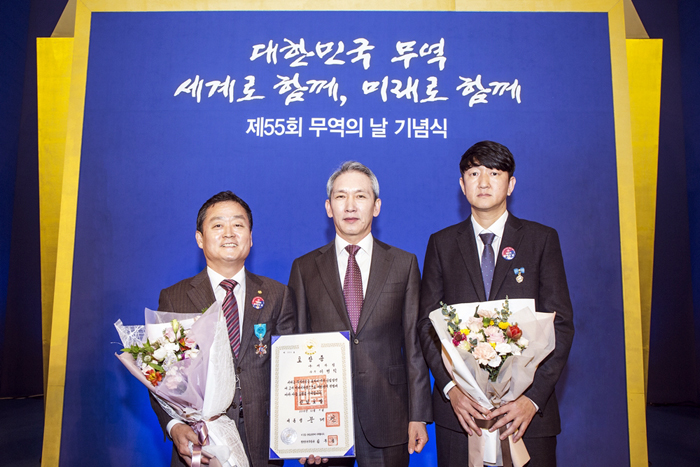 Ceragem, the global health care specialist, was announced as a winner of the Industrial Service Medal and Prime Minister's Citation at the 55th Trade Day held on Dec. 7.
The award for the Men of Merit at the Trade Day is the governmental award for the men of merit achieving the distinguished service, including the expansion and qualitative advancement of exports, the exploration of global markets, and the creation of jobs. The Trade Day event was attended by about 2,000 participants, including President Moon Jae-in of the Republic of Korea, men of merit concerned with trade, and the officers from the relevant government authorities.
As the recognition on Ceragem's contribution in increasing its export by exploring markets abroad and activating sales, Mr. Lee Byeongik, the Director of Business Division, and Employee Mr. Hong Min, were honored, winning the Industrial Service Medal and the Prime Minister's Citation, respectively.
Due to the development of the automatic thermal massager simultaneous to the founding of Ceragem in 1998, Ceragem has secured its position as the leader in the global thermal massager market as a top exporter for 20 years to markets globally including the USA, China, and India. Ceragem is exporting to approximately 70 countries at present the present and operating a distribution network having 2,500 agents.
The products contributing to the increase in exports include the Ceragem Master V3, the thermal massager for the spine, and Youridm, the personal combination stimulator. In particular, the Master V3 has a unique internal heating projector that moves up and down along the spine. It's the medical device providing the spinal massage with both heat and pressure. The massage intensity is controlled with 6 levels of intensity. It provides 12 massage programs including Relax Mode, Study Mode, and Deep Sleep Mode.
The Ceragem Master V3 was selected as the World-Class Best Products for 16 consecutive years. Including the launch of a rental promotion on TV home shopping channels in Korea, Ceragem has been greatly favored among the consumers in Korea by diversifying its distribution channels.