Home > Company > Promotion Center > News
Ceragem Master V3 was Selected as World-Class Best Products for the 17th Consecutive Year
2018-12-17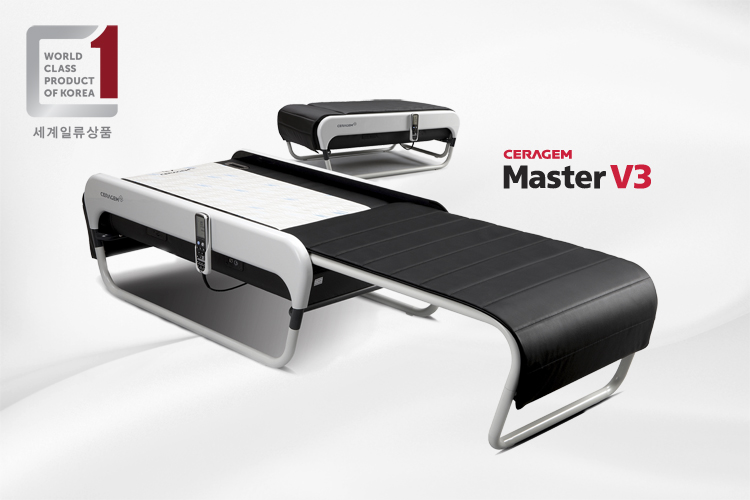 Ceragem Master V3, the representative thermal spine massager of Ceragem, the global health care specialist, was selected as the World-Class Best Product for the 17th consecutive years.
World-Class Best Products, a certification organized by KOTRA and held by the Ministry of Trade, Industry, and Energy is given to world-best enterprises, that are leading the global markets., Products are selected and announced whose global market is valued of over 50 million USD annually and of more than twice as much as the domestic market, or whose exports are valued of over 5 million USD per year among the products whose global market share is in the top five, or has over 5% of the total global market.
The Master V3, the thermal spine massager of Ceragem was selected as World-Class Best Product, and it provides a customized massage, using the function that scans the spinal curvature and utilizes the projector movement system. The Master V3 analyzes the features of the diverse spines that is specific to the user and provides a more pleasant and effective massage along the spinal curvature using the internal thermal projector.
Moreover, Ceragem was listed on World Class 300 Enterprises, the list recognizing promising global enterprises by the government in 2017, and won a Citation from Ministry of SMEs and Startups due to its recent expansion of the export market.
Winning the Industrial Service Medal from the President of the Republic of Korea and the Prime Minister's Citation at the awards ceremony for the Men of Merit at the Trade Day held on the 7th, Ceragem has been once again recognized for its brand value as the global health care specialist and for the superiority of its products, receiving awards from the government for maintaining high public confidence.
The Master V3 of Ceragem, the World-Class Best Product, is marketed through the rental promotion on TV home shopping channels including NS Home Shopping, Shinsegae TV Shopping, and Hyundai Home Shopping.